13 Feb

Summer at Go Sea Kayak

Summer is a constant buzz of energy in Byron Bay.

Town is bustling as Australian families are on holidays and European travellers (except for this year ((2020))) are migrating South to escape Winter in the Northern Hemisphere.

The ocean is ever changing with a lot of our larger East swell pushing into the Bay creating a beautiful selection of  surf breaks for board riders as well as our local Bottle nose Dolphins. Dolphins love surfing! The below photo was taken by local photographer, Sean O'Shea who is well known in the Northern Rivers for capturing the beauty of people connecting with the environment and wildlife.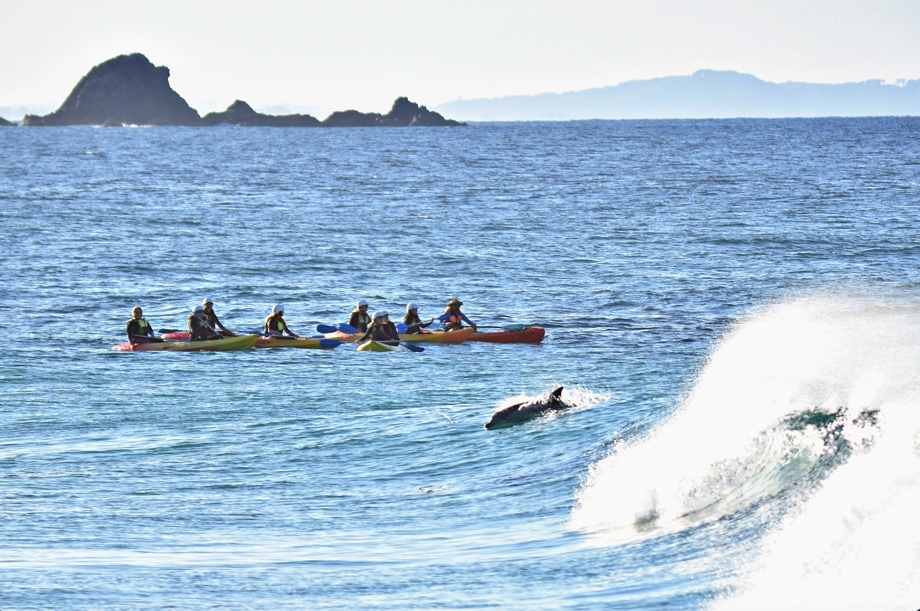 Byron Bay is located in the centre of The Cape Byron Marine Park which is divided into sanctuary zones and habitat protection zones covering approximately 22,000 hectares extending from Brunswick Heads to the North down to Lennox head in the South. This Marine Park is home to around 300 resident Bottlenose Dolphins.
We are often lucky to encounter many of these dolphins in Byron Bay and particularly in a section of the Bay that we at Go Sea Kayak and also 'Dolphin Research Australia' (www.dolphinresearchaustralia.org) refer to as a critical habitat zone which is located near Wategos Beach in the most Eastern corner of the Bay. Here the water is very shallow and protected and it is a common place to spot dolphins surfing, milling, sleeping and teaching their calves all sorts of dolphin things.  Over the past 12 years of operation we have come to recognise around 6 of these dolphins by the shape, size and markings of/on their dorsal fins. You may hear your guides say 'Oh there's Bruce!' or 'Feather' or 'Snubby'.  If you look closely at the picture below, you will be able to identify 'Punamu', a local dolphin named by our guide, Chris about 10 years ago. It is very special to encounter these same local dolphins day after day, week after week and year after year and this is why our guides and managers are so insistent on approaching this area respectfully as guests so as not to scare these beautiful animals away from their critical habitat zone.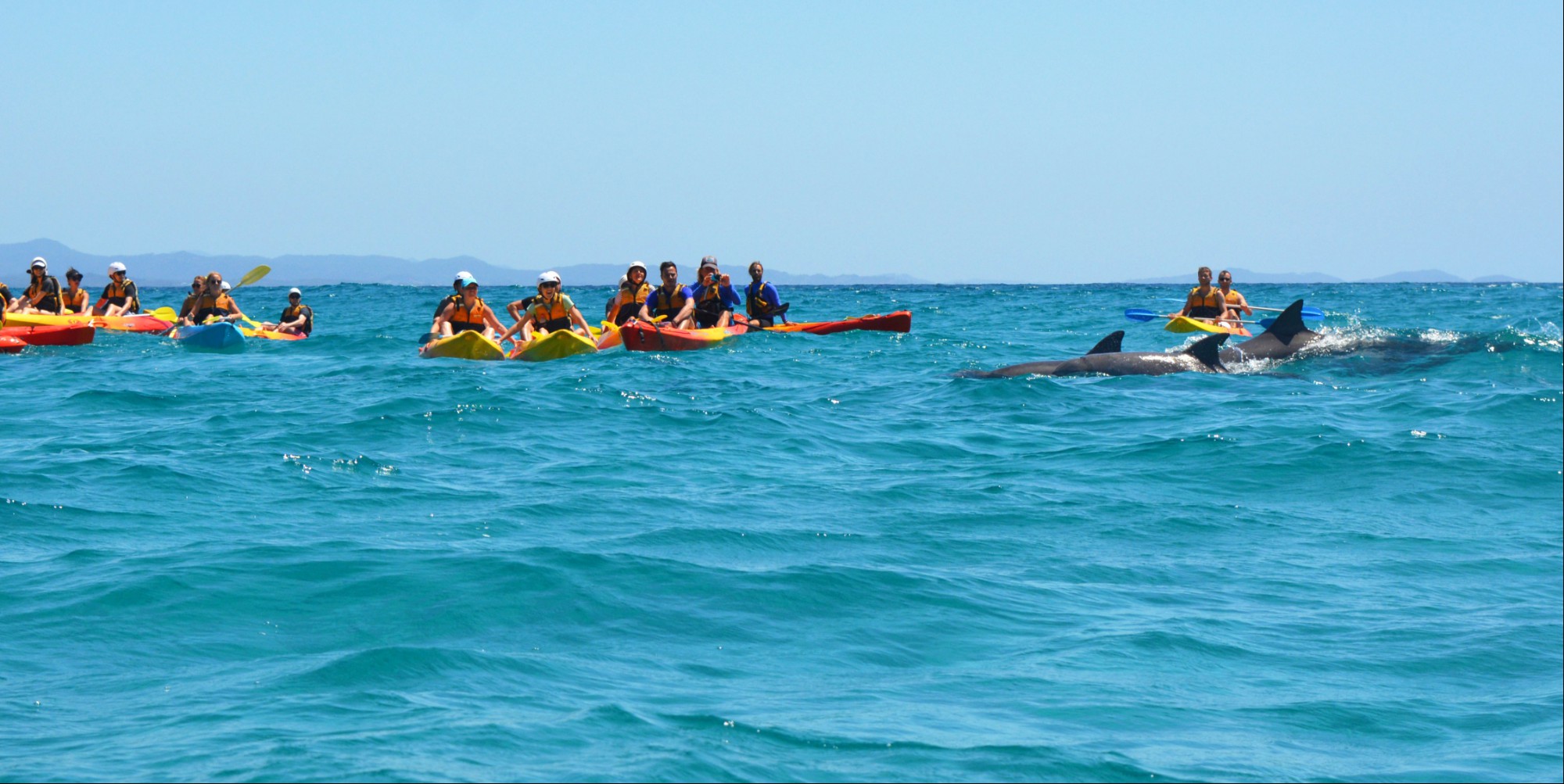 In the Summer you may be lucky to spot the beautiful Rainbow Bee Eaters. These colorful birds build their  burrow style nests in the sand dunes from November to January before migrating to the North of Australia and Papua New Guinea for the Winter. Rainbow Bee Eaters are easily one of my favourite bird species. Listen for their high pitched 'prrr prrr prrr' when around the sand dunes.  Here's a shot of a Rainbow Bee Eater breeding pair that I took earlier in the season at Angels beach, just South of Byron Bay: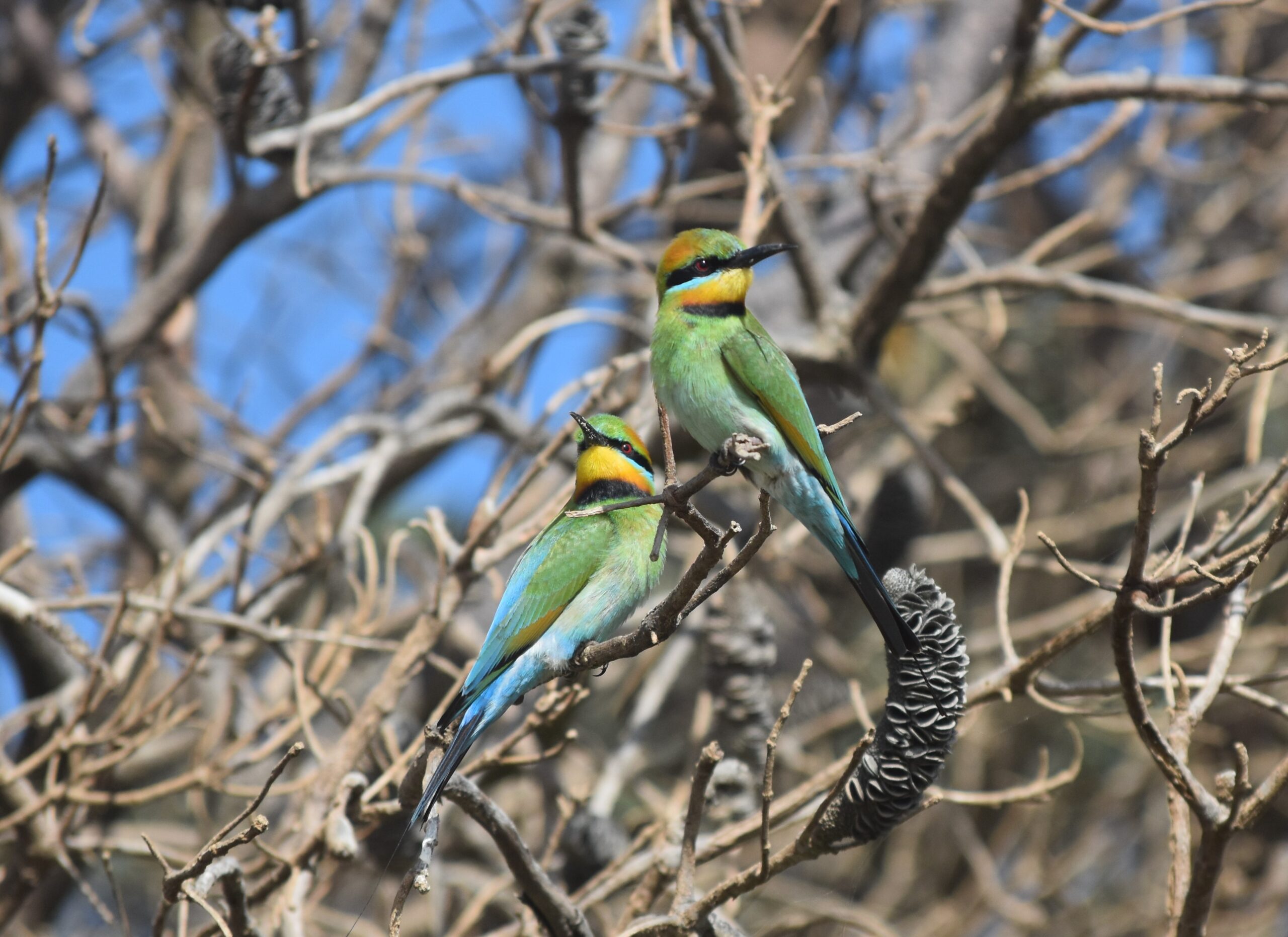 Manta Rays, Eagle Rays, Blue-Spotted Rays,  Common Stingarees,  and Leopard sharks frequent the shallow volcanic reefs spread throughout the Bay during the Summer as the water temperature during this time of year can reach up to 27 degrees celcius and can feel quite tropical .
Green Sea Turtles and often the massive Loggerhead Sea Turtles (The second largest Sea turtles in the world) can regularly be seen popping their heads up to take a breath of air. If you're close enough and the conditions are calm enough, you can hear the ancient Loggerheads take this breath before you even spot them.
The below picture taken by our guide, David, is a beautiful example of this.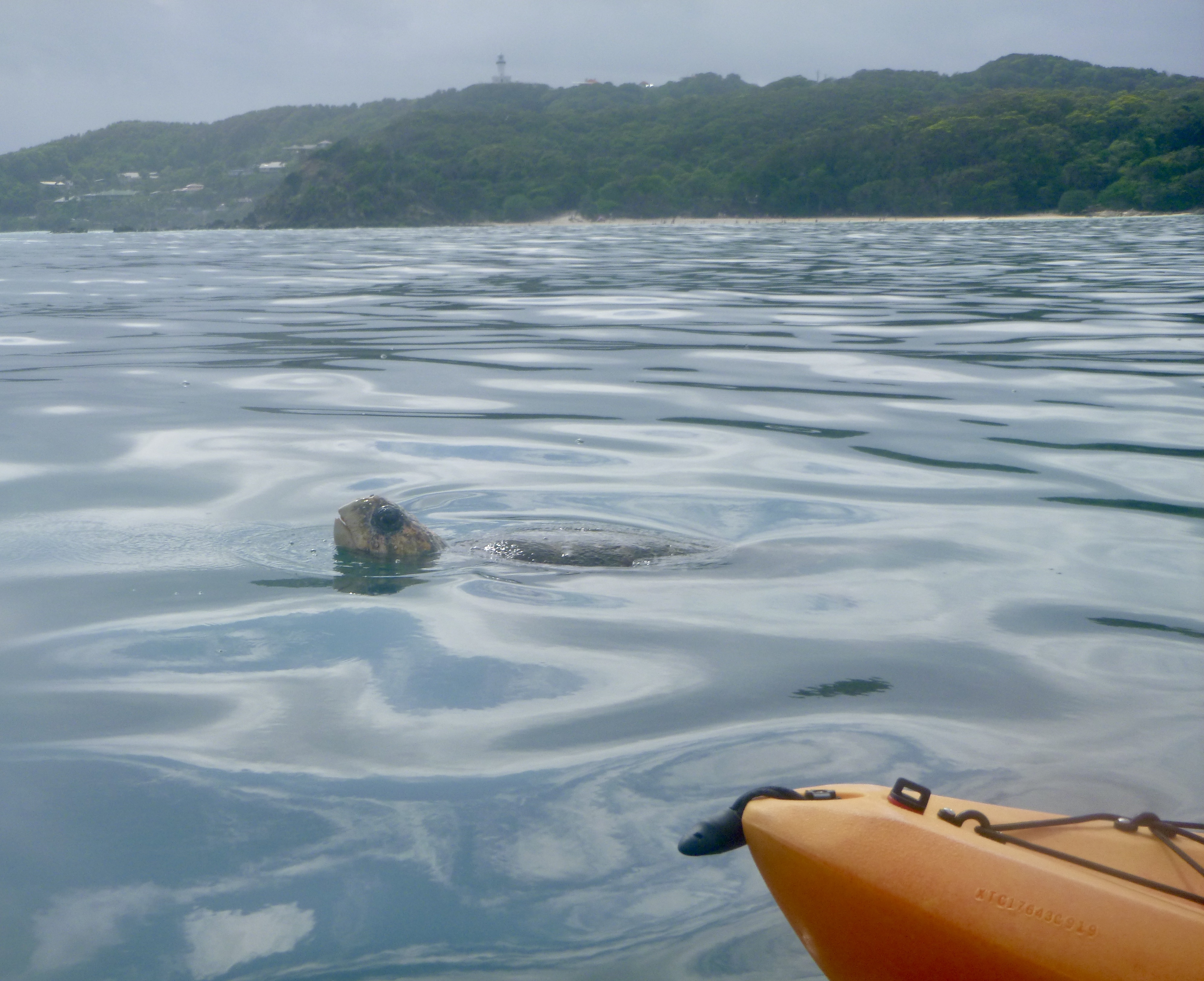 We spend a lot of time over these reefs (especially middle reef and the aptly named, 'Turtle Town') during our Summertime tours as the diversity here is spectacular. We even occasionally spot the critically endangered Hawksbill turtle on these reefs.
Sea Turtles have remained unchanged for around 35 million years however, over the last 50 years their numbers have been declining due to a variety of reasons, all human created. PLASTIC is a major player in their population decline.
As well as sea grass, most species of Sea Turtles love to munch on jellyfish. (I once experienced a Green Sea Turtle swim directly toward my kayak where a Blue Bottle was floating beside me, and chomp it right in front of my eyes).
What looks like a jellyfish that's not a jellyfish?? A plastic bag!
Unfortunately these beautiful gentle animals are often mistaking plastic bags and food wrappers for their favourite food source and their bodies do not have the ability to digest this plastic. Over time this plastic builds up in their digestive systems and limits their ability to dive for food and protection. We call this 'float syndrome'.
Over the last three years Go Sea Kayak guides have rescued two Sea Turtles suffering from Float Syndrome and taken them to the local Sea Turtle Hospital in Ballina. http://seabirdrescue.org.au/   The good news is that these turtles both recovered and were able to be released back into the wild successfully. The The Ballina/Byron Sea Turtle Hospital also run tours. Check out the above link if you're interested in helping rehabilitate sick and injured sea turtles and birds or just hearing more about the amazing job these volunteers do.
You will often hear our passionate guides speaking about limiting the use of single-use plastic while on our tours as this is a very simple solution to the problem these precious creatures are facing. If you haven't already heard of it it, 'Take 3 for the Sea' is a wonderful initiative that is spreading quickly. Take a look in more detail here:  https://www.take3.org/ 
Summer provides extra hours of daylight which means that we have the opportunity (Thanks to the Cape Byron Marine Park service) to run three tours per day. Our first tour is a 6:00am sunrise tour.
In my opinion it's the best time to be on the water. The ocean is calm and the light as the sun rises up over Australia's most Eastern point is a photographer's dream. As the sun hits the green hills of the hinterland on our early morning tours you can understand where 'Wollumbin' (also known as Mt Warning) got its name as often at this time of day, the mist is still rising up over the ranges.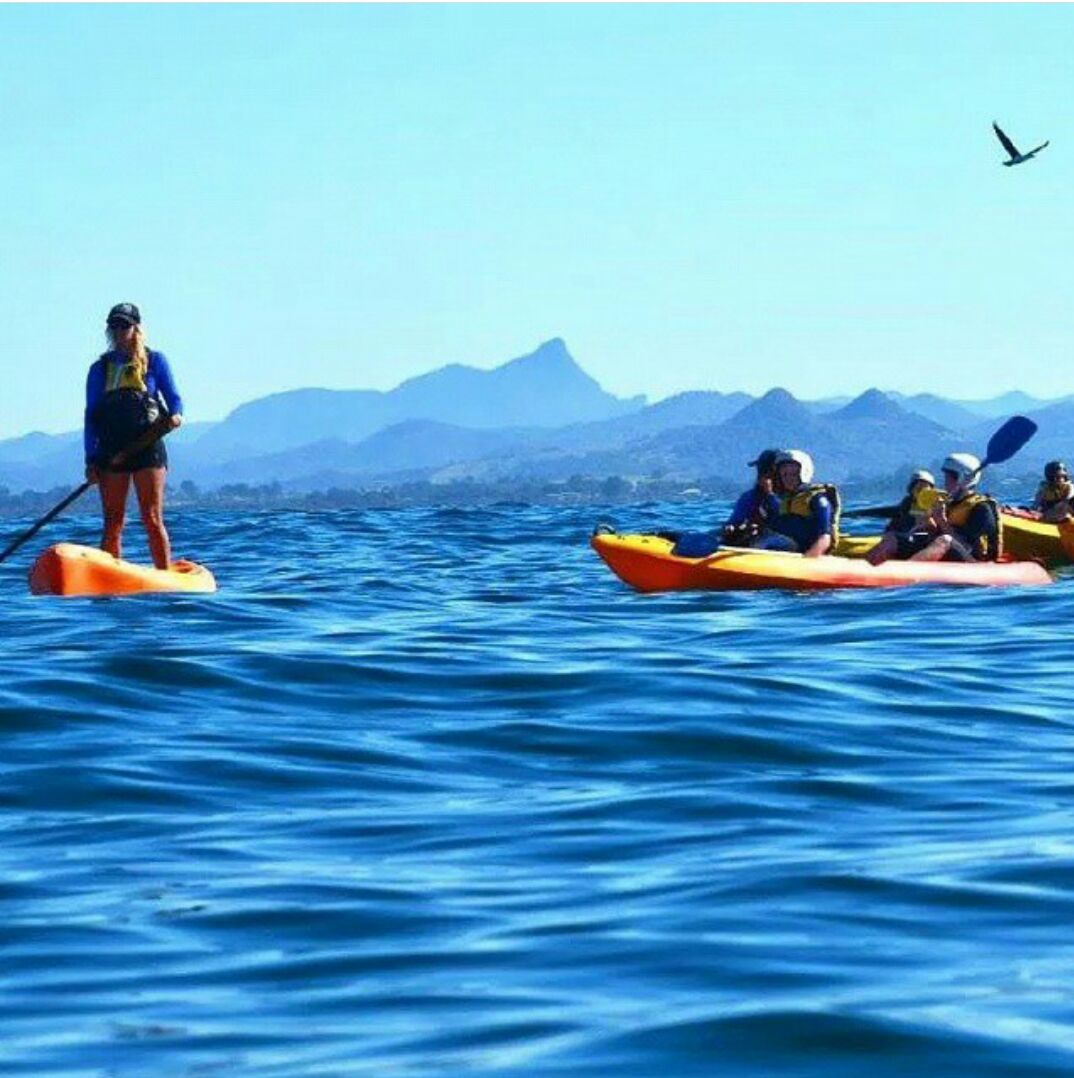 This peak dominates the landscape and is a distinct backdrop to Byron Bay as seen in the above photograph also captured by Sean O'Shea.
Sacred to the descendants of the local indigenous people of the Bundjalung Nation. The Arakwal Bundjalung people (Also known as the 'first sun people')  of the the Byron Bay area named this peak 'Wollumbin' which in our language, means Cloud Gatherer.
Wollumbin (or Mt Warning) is the first point of Australia to see the sunshine every morning and is the central volcanic remnant or plug of the ancient Tweed Shield Volcano. What remains of this ancient volcano is now the largest erosion caldera in the Southern Hemisphere and Australian Tourism has declared it to be a Landscape of National Significance and dubbed it "Australia's Green Cauldron".
There's lots to do in Summer and plenty of time to do it! if you'd like to come kayaking with us in the summertime or find out about other fun activities in or around Byron Bay, feel free to give us a call on 0416222344
Stay tuned for our Autumn Blog coming soon!
Emma Williams