08 May

How to kayak to Julian Rocks and not need a rescue

How to kayak to Julian Rocks and not need a rescue.

Nuthungulli also known as Julian Rocks is a rocky outcrop situated 3.25 km offshore north of Main Beach Byron Bay, a focal point of the Cape Byron Marine Park.

Julian Rocks are world renowned for being one of the best diving locations known to man accessed daily by dive boat charters and local surf ski paddlers. It sets itself is a beautiful lure offshore for avid and want to be kayakers on calm days.

Kayaking to Julian Rocks can be a most memorable experience for all the right reasons. It can also be memorable for all the wrong reasons. It can be a nightmare for inexperienced kayakers. Between June and November each year you may see Humpback Whales on the way, you can see turtles and all sorts of other marine life.

My name is Kurt Tutt, I personally have been paddling to Julian Rocks and back almost daily since the age of 12 some 31 years ago now and I have put together this checklist to help you safely make your paddle there and back. Out of the thousands of times I have paddled there I have had to swim back twice (yep, twice) due to equipment failure… and poor judgement. I'm in the position of being someone who has learn't from their mistakes.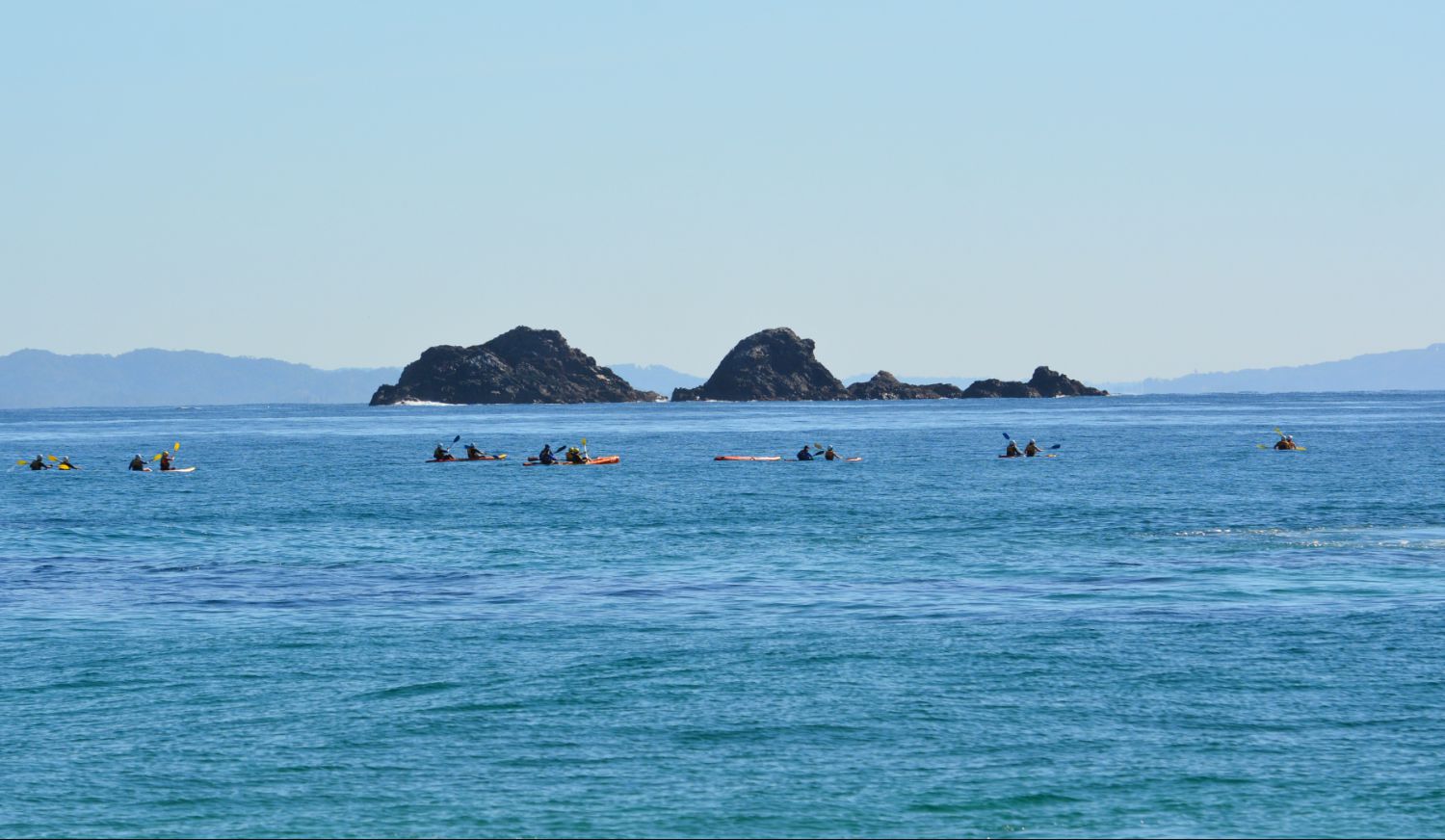 TIP NUMBER 1 – FITNESS: whether you attempt this paddle from Main Beach which is a 7 km round trip or from Wategos Beach which is a 5 km round trip you still require a good level of fitness.
The general time for kayaking from Main Beach out to Julian Rocks is around 25 to 40 minutes depending on your ability and the type of craft of which you use. Surf Ski paddlers can do the trip one way under 20 mins. You can save around ten minutes each way starting and finishing at Wategos.
Kayaking while being a low impact exercise can expose physical weaknesses such as lower back injuries or tightness in your hamstrings and quads, therefore it is highly recommended that you test yourself first before trying to paddle to Julian Rocks and make sure you have the physical ability to do so.
Most kayakers will attempt this paddle on a sit on top plastic kayak which can weigh around 30 kg, these kayaks don't move so quickly so you will need to allow a good amount of time to make your way to Julian rocks and return. The benefit of using such kayaks is the fact they are more stable then a surf ski.
TIP NUMBER 2 – EQUIPMENT: It is imperative that you use good, functional equipment to make your way out to Julian Rocks and back. Check that your kayak is watertight and doesn't leak. Does it have a bung in the plug hole, simple stuff but important. A leaking kayak will add more resistance to your paddling and make it much harder to get to enjoy paddling.
Make sure you have a sturdy paddle and even carry a spare paddle.
* Wear a Level 50 or higher Australian Standards approved life jacket, under maritime law it is it is a legal requirement for you to wear a life jacket this far offshore.
* Take water so that you don't dehydrate during the paddle.
* Take your phone in a dry bag or lifeproof case and lanyard it to your lifejacket) and call the local marine rescue at Cape Byron Lighthouse 6680 8417 before you head out letting them know what time you expect to be back.
These simple measures can go a long way to ensuring you have a good return trip. These pieces of equipment are also just the bare minimum, a marine vhf radio, sea drogue are other items I recommend considering use of when kayaking offshore.
TIP NUMBER 3 – WEATHER: This is what I believe is the most important checkpoint when considering paddling to Julian Rocks and back.
You must remember that the water conditions at Julian Rocks will not be the same as what they are at the shoreline unless there is virtually no wind and no swell forecast over a period of at least 2 hours.
It is advisable to attempt your paddle on days when there is a forecast of less than 10 knots of wind from the north or from the south.
Do not even attempt to paddle out in winds stronger then 10 knots from the north unless you are a highly experienced kayaker.
Do not attempt to paddle out in winds stronger then 10knots from the south or south east and south west unless you are a highly experienced kayaker.
From November through to February each year we may have easterly trade wind swells. On the shoreline in Byron Bay you may not feel or see the effects of these winds but at Julian Rocks this swell can be quite large. As a guide if you see an Easterly swell on the forecast do not attempt this paddle in more the 1.2 mtrs of swell.
Generally during autumn and winter we can also get south-westerly winds. These are very dangerous winds as they tend to fluctuate from being quite low one minute to very strong soon after and can blow you far offshore.
Be aware that southerly swells whilst not refracting into Byron Bay will hit Julian Rocks.
Did you know: On high tide on a calm day you can paddle between the rocks. Do not try this on a low tide or when there is swell. Be ready to get some scrapes on you kayak too.
It would be best to paddle conditions that are listen 1.2 m of swell from the South East the east or the north-east if you have some understanding of current make sure you check the currents as well.
I use many weather apps to help me plan my kayaking adventures. I suggest using Windguru as it predicts the swell and the wind very accurately. Others are definitely out there though to use and seek advice from as well.
TIP NUMBER 4 – EXPECTATIONS: Ensure that you have realistic expectations when paddling to Julian Rocks.
It's a bit like climbing Wollumbin, Mt Warning and expecting an ice cream shop at the top… it ain't happening.
Some people envisage a tropical island paradise with the ability to land safely and to climb up on the rocks, bask in the sunshine and enjoy the surrounds.
This just isn't so, the rocks are sharp, they're very hard to climb upon without cutting yourself and the rock is mainly covered in bird poo, nothing like the tropical island paradise.
However underneath the water Julian Rocks is a paradise so take your snorkel gear, tow rope to connect to a mooring buoy with your kayak and enjoy the rocks that way.
There is so much to see. Moor your kayak on the western side of the Rocks where it has a little more protection and excellent snorkelling.
Expect it will take two hours all up minimum. Paddling steadily and stopping for a short snorkel then returning to Main Beach is around two hours if using a recreational sit on top kayak. Expect to see other users at the rock in the form of dive boats.
Be aware of them, endeavour to stay out of their way and be aware of snorkelers and divers there as well. The western side of the rock has some reefs that are just below the surface. If you are using a craft that has a fixed rudder be aware you may hit the reef with your rudder around this area on lower tides if you aren't careful.
TIP NUMER 5- LANDMARK: Ensure that you know where you started your kayak paddle from and you know where you're paddling back to .
That way you will have a nice direct line back to your launch site without paddling too far either way.
TIP NUMBER 6- RESPECT: As mentioned earlier, Julian Rocks are part of the Cape Byron Marine Park. They lie within what's known as a sanctuary zone where no fishing is permitted in this area around the rock and you must respect the marine life that inhabits the area.
Take the time to read about the story of Nuthungulli before you proceed out area. You can find this at the local National Parks and Wildlife Service website. The views back to the coastline are actually spectacular, you can enjoy your paddle by taking these little steps to ensuring that it is a safe one and that you go paddling at a good time not in bad weather.
Enjoy Kayaking and Speak Soon
Kurt Tutt